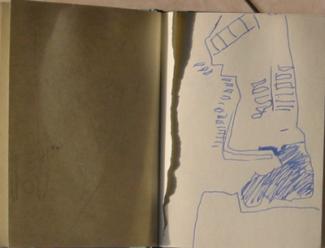 Drawings and Sketches: sketching in panic
In situations where you are no longer in control, the mind loses its grip on the hand.
1999
Germany, Canada
---
Sketching under impossible circumstances - in the dark of the cinema, in the commotion of the food market, in the abattoir or viewing scenery through the windows of a moving car. The goal is to liberate the hands from the control of consciousness.
Ongoing work.
Also taught as a course at the Academy of Fine Arts, Munich, Germany, 1999.
---