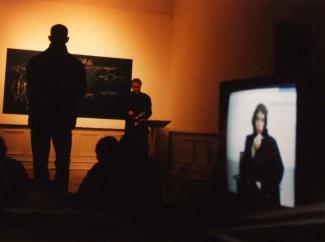 Blind Date / REPLA©E
Following an invitation to participate in a "blind date", I sent a substitute.
1997
Stockholm, Sweden
---
Curated by Susanne Gaensheimer and Maria Lind
Stockholm, Sweden, Royal Academy of Art 1997
Description:
REPLA©E was an intervention into contemporary curatorial practice. Following an invitation by Susanne Gaensheimer and Maria Lind to participate in a "blind date" between myself and Swedish artist Maria Lindberg, I sent a substitute.
(text continues after gallery...)
Blind Date / REPLA©E

: Shows
---
I extended previous work in which I had slipped into the identity of obsessive, fictitious characters by replacing myself completely. I let go of all control. My substitute - a scientist - traveled to Stockholm to pursue his own work. He occupied a spacious studio at IASPIS in the Royal Academy in Stockholm for a period of two weeks. During this time he was placed into an artistic context which conditioned his work as he began exploring semantic relationships on oversized chalkboards.
However the system refused to engage under these parameters and withdrew support. At the summarizing event, my replacement presented his results in a public lecture, juxtaposed by Maria Lindberg's contribution of an empty chair and a video of waiting-for-something-else. This project was motivated by questions about how our seemingly authentic activities are in fact determined and predictable through the context in which we act, how context constructs identity; what it means for an artwork to be "authentic" the possibility to delegate authorship to another person, as well as how an "artist" was defined then (and is today); the aesthetics that "work" creates in and of itself and the rigid rules of the exhibition system.
REPLA©E was a psychological, social and artistic experiment. The controversy it sparked established its relevance.