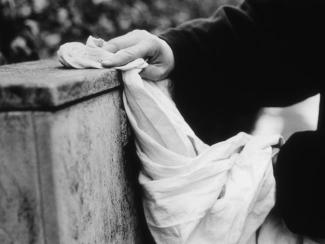 Monopati Berlin
Two living situations were shown simultaneously in rented apartments in Berlin and Munich
2000
Berlin and München, Germany
---
Monopati - The Project
Two living situations were shown simultaneously in rented apartments in Berlin and Munich. Both had been installed into apartments in downtown, low-income rental areas. For the duration of the exhibitions, they were open to the public - the key could be obtained at nearby galleries.
Upon entering the flat, visitors were immersed into a domestic scene disrupted, as if converted into a workshop focused on a single minded activity... and then, seemingly, abandoned.
(text continues after gallery...)
---
Both apartments had one single item in common: an old graduation photograph from a girls school. There is no indication of which school, city  or year it was taken. But from the style of clothing it would appear to be from the 1950's. We are left to wonder: though 600 kilometers apart, that at some point, many years ago, these two women had a shared biography and, apparently, a propensity for obsessive behaviour.
Monopati Berlin
In Berlin, the apartment resembled an overflowing laundry storage. Thousands of fabric rags were stacked in big but orderly piles. Each of these had a small tag pinned to a corner. The tag had written information on it that was logged in a ledger book noting: the item she had cleaned (such as a lamp pole, park bench, hand rail), the street and neighbourhood in Berlin where it had been used, and the date.  Whatever she collected was labeled, inventoried in ruled composition books, and stowed away.