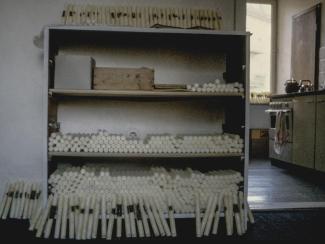 Ou Topos 1990 Munich - A Synthetic Memory
A rental appartment in the Westend district of Munich. Visitors found the traces of a person who may have lived there.
1990
Munich, Germany
---
Kazmairstr. 37, Rgb., Munich, Germany
A rental apartment in the west end district of Munich. Visitors found the traces of a person who could have lived there. The apartment was clean and orderly, just that candles were lined up all along the walls, stacked into shelves, filling the kitchen cupboards, the night table, the space under the bed ... The investigating visitor would have found portraits of crime victims and criminals, carefully clipped from tabloid papers and applied to household candles with a cover of wax. Apparently this manic occupation had been going on for quite some time, since the apartment was virtually filled with candles. The candles were numbered, and with each number a short summary of each tragedy has been painstakingly recorded in a ruled composition book on the desk.
For a period, the apartment was declared an exhibition space. Then its contents was offered up for sale in a classified ad. A different crowd of visitors appeared, scavenging for bargains. Some of them demanded their transit fare back when they were confronted with the situation.
Ou Topos 1990 Munich - A Synthetic Memory

: Shows
---