---
Jun 27 - Sep 16, 2012
Sydney, Australia
Cockatoo Island
All Our Relations
Curated by
Catherine de Zegher & Gerald McMaster
Independent Pest Control
---
From the curators' foreword:
The 18th Biennale of Sydney focuses on inclusionary practices of generative thinking, such as collaboration, conversation and compassion, in the face of coercion and destruction. With the creation of conditions for an encounter in consonance with our surrounding world, this event brings emphasis to what is already happening at large. Drawing on the possibility of the present, the Biennale emerges from the engagement of all participants by using a model that begins with two curators in dialogue. This matrix of conversation extends to both artists and audiences in a multi-vocal correspondence. - See more at: http://www.biennaleofsydney.com.au/about-us/history/2012-2/#AD-FOREWORD
He Dreamed Overtime, Iris Häussler's installation for the 18th Biennale of Sydney, involves an elaborate narrative played out in Cockatoo Island's historic military quarters, intertwining two stories of discovery, love, and obsessive making.
Häussler's installation includes 73 enigmatic beeswax sculptures, intricate coralline objects that have been "discovered" in a nearby cave by pest expert Stanley Dusk. In his spare time, Stanley has been using Building 2 as a makeshift laboratory to discover more about their creator, Ted Wilson, a former park ranger who recently disappeared.
---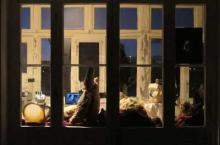 ---